🎁Holiday Glam Makeup: 5 Day Workshop
Walk away with the confidence to SLAY
your holiday looks!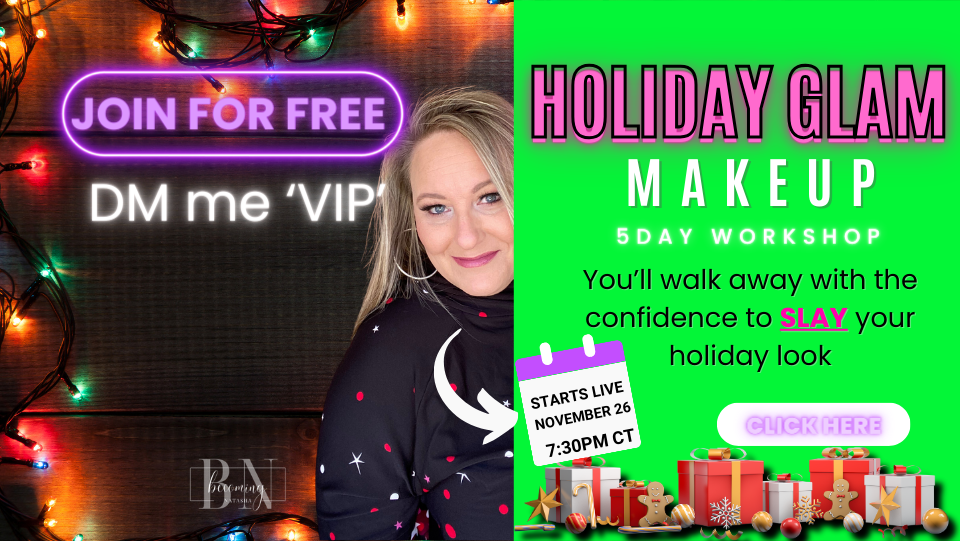 🏁Live: November 26, 2023
Where: All About That Glow
Private Facebook Group
🛑I won't be doing this again until next year!
Don't miss out!!
My email and mobile may be used by Natasha Davis & Becoming Natasha for promotional messages and in accordance with their privacy policy. I can opt-out at any time. Message and data rates may apply (SMS only).
2023 - Becoming Natasha - All Rights Reserved
Becoming Natasha does not give any guarantees on results or earnings with our
information, courses, programs. masterclasses, workshops, challenges, coaching, plans, tools, or strategies.
You recognize and agree that no person or part of Becoming Natasha brand has made any implications, warranties, promises, suggestions, projections, representations or guarantees whatsoever to you about future results or earnings, or that you will earn any money, with respect to your purchase of Becoming Natasha programs, courses, trainings, masterclasses, workshops, challenges, or coaching, and that we have not authorized any such implication, promise, or representation by others. There are no guarantees of results or future earnings.
This Site Is Not A Part Of The Facebook Website Or Facebook Inc. Additionally, This Site Is
NOT Endorsed By Facebook In Any Way. FACEBOOK Is A Trademark Of FACEBOOK, Inc.